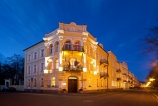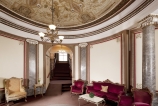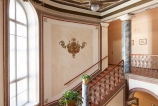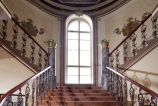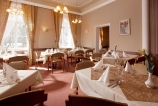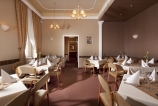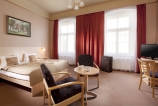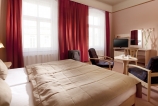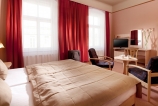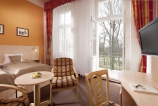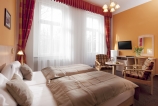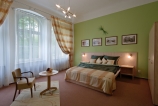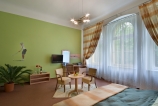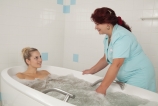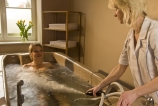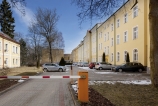 ---
Description
The recently renovated hotel building offers its guests catering and treatment services. The service staff speaks Russian, German and English. The hotel has a storage space for luggage, sale of souvenirs and cosmetics, a library. The reception is open 24 hours a day. Umbrellas are provided for customers to use. Internet connection only at the reception is free. Smoking is prohibited throughout the hotel!
---
Address
Francouzska 21, 35101 Frantiskovy Lazne
---
Location
The hotel is located next to a park, a short walk from the springs.
---
Cuisine
Breakfast: 07: 00-09: 00
Lunch: 12: 00-13: 30
Dinner: 17: 30-19: 30
Meals are served in the hotel restaurant.
Breakfasts are served buffet style.
Lunches and dinners - à la carte. Salad bar.
In the restaurant: international and Czech cuisine, diet food.
It is possible to order a lunch packet.
It is possible to order food in the room.
Drinks for lunch and dinner are extra charged.
The restaurant is open 07: 00-21: 00.
---
Rooms Fund
There are 54 rooms in the hotel:
SGL STD (12): single room, bathroom with shower, courtyard view. Room size 10.5-15 m2.
DBL STD (18): double room, bathroom with shower, courtyard view. Room size 14-21 m2.
SGL COMFORT (7): single room, bathroom with shower, park and street view. Room size 13.5-15.5 m2.
DBL COMFORT (17): double room, bathroom with shower, park and street view. Some rooms with balcony. Room size 18-22 m2.
All rooms have: desk, telephone, radio, minibar, satellite TV, bathroom with shower, hairdryer.
Internet connection in room za 4 euro per week and bathrobe for an additional fee of 1.2 euro/day + deposit 20 E.
There are no disabled rooms at the hotel.
Smoking is prohibited in the rooms!
In the rooms, clients are provided with: soap, shower gel, shampoo.
Twin beds are possible in almost all rooms.
It is not possible to connect numbers (connect).
An extra bed is possible in some rooms of the DBL STD and DBL COMFORT categories.
Pets are not allowed!
Housekeeping: every day.
Bed linen change: every 3rd day.
Change of towels: as needed.
Check-in: from 13:00. Check-out: until 10:00.
---
Infrastructure
Restaurant, balneo, fitness. Hotel guests have unlimited access to Aquaforum and Fitforum gym from Monday to Friday 09: 00-21: 00.
---
---
---
Treatment
All procedures take place in the hotel building. The hotel has a spa doctor. The cost of the complex treatment includes an entrance and final medical examination. Laboratory research is paid additionally. The comprehensive treatment program includes 18 procedures per week. Treatment of children from 15 years old only on the basis of the permission of the chief doctor.
---