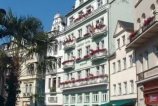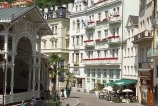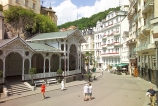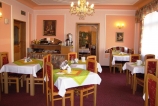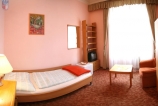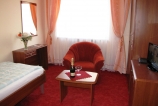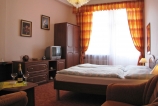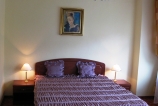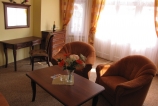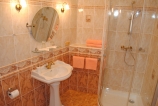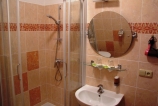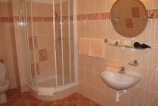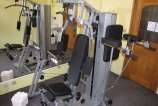 ---
Description
The cozy hotel underwent a partial reconstruction in 2009, as a result of which the balneological center was expanded, a fitness center was made, and new furniture in the rooms. The service staff speaks Russian, German and English. The hotel has a luggage storage space and a small library. Safe at the reception is free of charge. The reception is open 24 hours a day. Umbrellas are provided for customers to use. Internet connection throughout the hotel is free. Smoking in the rooms and in public areas is prohibited!
---
Address
Trziste 3/26, 36001 Karlovy Vary
---
Location
The hotel is located by the river in the very center of the resort, opposite the Market Colonnade, next to the spring # 1 - the Hot Spring and the stone Mill Colonnade with springs.
---
Cuisine
Breakfast: 08: 00-09: 30
Lunch: 12: 00-13: 30
Dinner: 17: 30-18: 30
Meals are served in the hotel restaurant.
Breakfasts are served buffet style.
Lunches and dinners - à la carte.
In the restaurant: international and Czech cuisine, diet food, vegetarian dishes.
It is possible to order a lunch packet.
Drinks for lunch and dinner are extra charged.
---
Rooms Fund
The hotel has 25 rooms:
SGL STD (9): single room, all rooms have new furniture. Room size 13 m2.
DBL STD (14): double room, all rooms have new furniture. Room size 20 m2.
SUITE (2): two-room suite with living room and bedroom, new furniture, large double bed. Room size 35 m2.
Each room has a bathroom with a bath or shower, hairdryer, toilet, satellite TV, telephone, radio alarm clock, refrigerator, free wi-fi internet, smoke detectors.
Ironing board and iron are free of charge.
For an additional fee, customers can get a bathrobe 200 CZK (8 E) + a deposit of 300 CZK (12 E) and slippers for 50 CZK (2 E).
In the rooms, clients are provided with: soap, shower gel, shampoo.
Twin beds are possible in DBL STD rooms.
It is not possible to connect numbers (connect).
Extra bed is possible in DBL STD and SUITE rooms.
No smoking in the hotel rooms!
Pets are not allowed.
There are no disabled rooms at the hotel.
Housekeeping: 2 times a week.
Bed linen change: once a week.
Change of towels: 2 times a week.
Check-in: from 14:00. Check-out: until 12:00.
---
Infrastructure
Restaurant, balneo, fitness center.
---
---
Treatment
All procedures take place in the hotel building. The hotel has a spa doctor. The cost of complex treatment includes an entrance and a final medical examination. Treatments are provided 6 days a week. The comprehensive treatment program includes 12 procedures per week. Treatment of children from 15 years old.
---