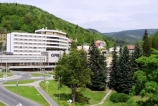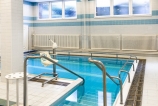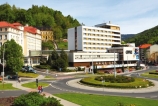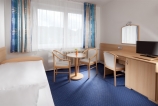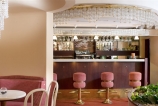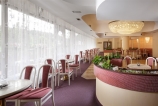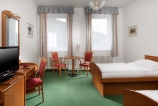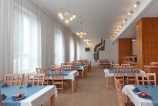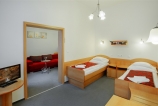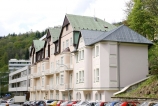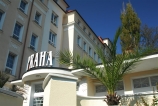 ---
Description
The Curie Hotel was built in 1992 and is one of the components of the Curie-Prague-Electra complex. All hotel rooms underwent a complete refurbishment in 2004. All three health resorts Curie-Praha-Electra are connected into one whole by a common corridor and have a common medical base and a restaurant. The service staff speaks Russian, German and English. The hotel has a storage space for luggage, sale of souvenirs and cosmetics. The reception is open 24 hours a day. Internet connection only at the reception and in the lobby bar is free. No smoking in the rooms! Smoking is only permitted in certain areas of the hotel.
---
Address
Agricolovo namesti 1036, 362 51 Jachymov
---
Location
The Curie complex is located in the center of the resort area.
---
Cuisine
Breakfast: 07: 00-09: 00 Lunch: 11: 30-13: 30 Dinner: 17: 30-19: 00
Breakfasts, lunches and dinners are served in the form of a buffet in the Curie restaurant.
Salad bar.
In the restaurant: European cuisine, diet food.
It is possible to order a lunch packet.
Drinks for lunch and dinner are extra charged.
---
Rooms Fund
There are 280 rooms in the entire Curie-Prague-Electra complex.
SGL IA (32): single room, room size 15.5 m2.
DBL IA (51): double room, room area 22-23.5 m2.
SUITE: two small rooms (bedroom and living room), not separated by doors, shower, toilet, satellite TV, refrigerator or minibar, telephone.
In all rooms: bathroom with bath or shower, telephone, refrigerator, satellite TV, smoke detectors, slippers.
Bathrobes can be borrowed from the reception for an additional fee. Safe only in some rooms, hairdryer can be borrowed at the reception. The hotel can provide an ironing board and iron for use.
A baby cot is available upon request.
In the rooms, clients are provided with: soap, shower gel, shampoo.
Twin beds are not possible. It is not possible to connect numbers (connect). Extra bed is possible in double rooms.
Two rooms are adapted for disabled people.
Pets are allowed in some hotels. Supplement 12 E / night.
Housekeeping: daily.
Bed linen change: once a week. Change of towels: daily.
Check-in: from 14:00. Check-out: until 11:00.
---
Infrastructure
Restaurant, lobby bar, balneo, beauty parlor, manicure, pedicure, solarium, parking. Guests of the hotel can use the swimming pool and sauna in the Aqua Center Agricola, a few steps away.
---
Treatment profile
Complex spa treatment, relaxation treatment.
---
Medical base
Own medical base. All procedures for guests of the Curie-Prague-Electra complex take place in the building of the Curie hotel and partly in Prague. The complex has a spa doctor.
---
---
Treatment
The sanatorium offers several types of treatment programs, including: TRADITIONAL RADON TREATMENT (FBT / HBT) Up to 21 procedures per week (as prescribed by a doctor), including 6 radon baths, individual procedures (physiotherapy, massage) within the established weekly limit. The minimum number of nights for a curative stay is 13 Program - BASIC RADON TREATMENT (HBL / FBL) up to 14 treatment procedures per week (as prescribed by a doctor), including 6 radon baths and 8 additional procedures. The program does not include individual physiotherapy treatments. The minimum number of nights for a curative stay is 13. Treatment of children from 18 years of age.
---