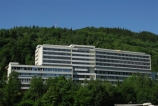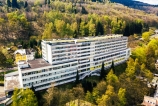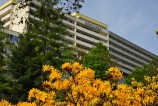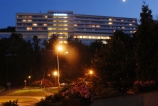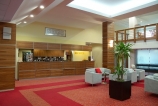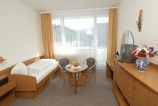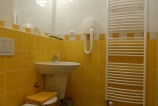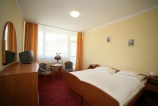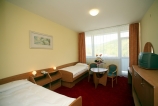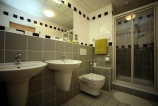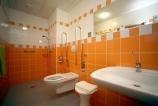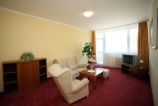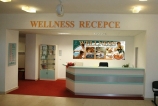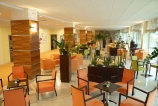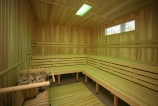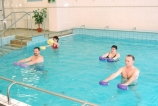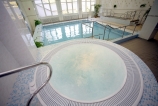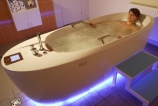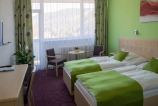 ---
Description
The building of the sanatorium was built in 1975 for a comprehensive spa treatment. An imposing building with 6 aboveground and 3 underground floors rises majestically above the Jáchymov Valley. The windows of the sanatorium offer a magnificent view of the panorama of the Ore Mountains and the resort itself. In 2009 the hotel was renovated and reopened to visitors on April 1. The service staff speaks German, Russian and English. The hotel has a place for storing luggage, sale of souvenirs and cosmetics, exchange office. The reception is open 24 hours a day. The safe in the hotel reception is free of charge for use. Internet connection in rooms for an extra charge, in the hotel cafe - free. Umbrellas are provided for customers to use. Non-smoking hotel!
---
Address
Lidicka 1015, 362 51 Jachymov
---
Location
The hotel is located in a resort area, on a hill and next to a forest.
---
Cuisine
Breakfast: 07: 30-09: 30
Lunch: 11: 30-14: 00
Dinner: 17: 30-19: 30
Meals are served in the hotel restaurant. Buffet breakfasts, lunches and dinners. Salad bar. In the restaurant: European cuisine, diet food. It is possible to order lunch packet, room-service. Drinks for lunch and dinner are included in the rate. The Winter Garden lobby bar is open 09: 00-22: 30.
---
Rooms Fund
The hotel has 160 rooms:
SGL I.A: single room, city or mountain view, room area 13-14 m2.
DBL I.A: double room, city or mountain view, 6 rooms adapted for disabled people, room area 14-15 m2.
SGL 1A PLUS / DBL 1A PLUS - completely re-equipped rooms on the 4th floor of the hotel, (shower, toilet, hairdryer). SAT-TV, telephone, safe, refrigerator or minibar, balcony Free: WiFi Internet, daily bottle of water in the room.
SUITE (3): two-room apartments, room area about 40 m2. APARTMENT (1): two-room apartment with kitchen, room area about 40 m2. All rooms have a bathroom with shower, hairdryer, desk, telephone, minibar, satellite TV, safe.
In rooms of category I.A, clients are provided with: soap, shower gel.
In SUITE rooms, clients are provided with: soap, shower gel, shampoo, hair conditioner.
A bathrobe for treatment stays is provided free of charge in all rooms (must be requested at the reception). Slippers are not provided free of charge.
Twin beds are possible in all rooms. It is not possible to connect numbers (connect). Extra bed is possible in double rooms and suites. Six double rooms are adapted for disabled people. Pets are not allowed. Housekeeping: daily. Change of bed linen: in category I.A once a week, in other categories every 4th day. Change of towels: daily. Check-in: from 14:00. Check-out: until 11:00.
---
Infrastructure
Two restaurants, a cafe, a lobby bar, balneo, an 8x8 m swimming pool, a sauna, a beauty parlor, Thai massage, a gym, table tennis, billiards, dance evenings and concerts, a library. Guarded paid parking lot. In summer, you can sunbathe on the large terrace with shower and panoramic mountain views. The hotel has the possibility of holding conferences - a hall for 160 seats.
---
Medical base
Own medical base. In addition to its own 8x8 m swimming pool, hotel clients can use the Agricola Aqua Center.
---
---
Treatment
The sanatorium offers several types of treatment programs, including: TRADITIONAL RADON TREATMENT (FBT / HBT) Up to 21 procedures per week (as prescribed by a doctor), including 6 radon baths, individual procedures (physiotherapy, massage) within the established weekly limit. The minimum number of nights for a curative stay is 13 Program - BASIC RADON TREATMENT (HBL / FBL) up to 14 treatment procedures per week (as prescribed by a doctor), including 6 radon baths and 8 additional procedures. The program does not include individual physiotherapy treatments. The minimum number of nights for a curative stay is 13. Treatment of children from 18 years of age.
---