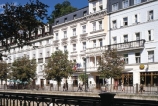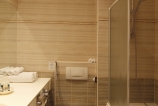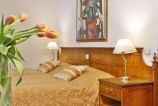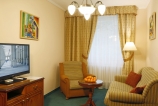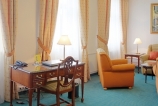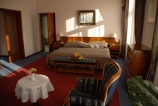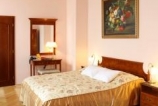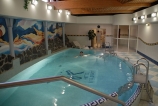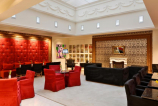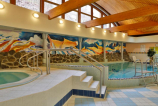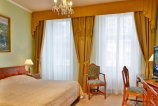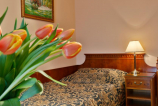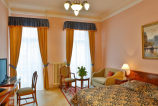 ---
Description
The first mention of the hotel dates back to 1802. Then it was called "The Golden Lion", and later "At Wilhelm of Prussia". It was visited by Prince Louis Bonaparte and N.V. Gogol. In the 50s, the hotel got its current name. At guests' service: a relaxation center with an irregularly shaped swimming pool, 7 meters long (square - 30 sq. M) with a counterflow of water, a solarium, a gym, a jacuzzi, a hairdressing and beauty salon, and numerous shops. Internet cafe. Live music evenings are held in the hotel restaurant in the evening.
---
Address
I.P.Pavlova 8, 36001 Karlovy Vary
---
Location
The hotel is located in the central part of the spa area, on the right bank of the Tepla River, opposite the Mill Colonnade.
---
Cuisine
Breakfasts, lunches and dinners take place in the hotel restaurant.
Breakfasts - buffet, lunches - 2 soups, salads, desserts. Dinner is à la carte.
Tea, coffee, water and juices are free for breakfast, lunch and dinner.
---
Rooms Fund
The hotel has 161 rooms, of which:
Single (SGL STD) - 60: standard room, room size 12 - 14 sq. M.
Double rooms category (DBL STANDARD) - 48: standard room, view of the courtyard or the river. Room size 16 - 18 m2
Double rooms of category (DBL SUPERIOR) - 38: view of the courtyard or the river, in some rooms the possibility of an extra bed, room size 20 - 23 sq. M.
Apartments (Apartment) - 11: 2 adjacent rooms without doors, room size 28 - 30 square meters.
Apartment President - (Prezident) 1: river view, spacious apartment with a large living room, 2 bedrooms, 2 bathrooms.
Each room has a bathroom with a bath or shower, hairdryer and cosmetic kits, sewing accessories and shoe care products, bathrobes, slippers, telephone, satellite TV (about 15 programs, Russian ORT, RTR, etc.), mini-bar , radio, safe.
Daily cleaning of the room and change of towels. Linen change: 2 times a week.
Check-in: at 12 noon. Check-out: at 14:00
---
---
Treatment
All treatments are performed in our own balneological center. Treatments are available 6 days a week. Treatment of children from 12 years old.
FBT/HBT/BBT treatment programs include - 1 doctor's appointment and 20 treatments per week (tests and ECG are extra charge)
---