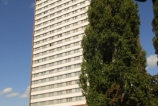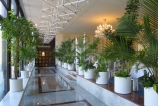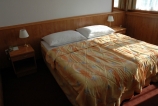 ---
Description
The four-star hotel "Olympik" is located in Prague - 8, which borders the city center (Prague - 1). Tram and metro "Invalidovna" are in a 7 minute walk away. Wenceslas Square can be reached in 10 minutes (4 stops by metro) or by tram (8 stops). Not far away is a large sports complex with swimming pool, sauna, solarium, tennis courts, a specially equipped place to play darts, billiards, bowling. The hotel has a conference room and meeting rooms. Modern complex of lounges with their original decoration in antique style located on the ground floor may be divided into 5 parts – three meeting rooms, a foyer and a large hall. It is suitable for organizing festive events, congresses, conferences, corporate meetings, cocktail parties, banquets, etc.
---
---
Location
Hotel is located in Prague 8, close to the metro station «Invalidona» in just a ten minute drive from the historic city center.
---
Cuisine
Buffet breakfast is served in the main restaurant. Restaurant BOHEMA -A la carte restaurant is open all day and offers Czech and international cuisine.CLUB BARwith stylish furniture offers comfortable seating with a wide range of hot and cold beverages and all-day refreshments.Restaurant IKAROSproviding clients with all-day hotel buffet meals.
---
Rooms Fund
The 306 Olympic Hotel rooms have been completely renovated and their equipment complies with the four-star category.The rooms are equipped with a minibar, safe deposit, and Wi-Fi connection. Rooms included in the business category are equipped with TV.8 modern suites have been completely renovated and are equipped with a TV, minibar and Wi-Fi connection. Bathrooms in suites have a bathtub.The Ludvík suite with beautiful period furniture is very suitable for special occasions and is often used as a bridal suite.All rooms are air-conditioned.
---
Infrastructure
Hotel has a laundry service, a gift shop, currency exchange, conference room, business center, casino.
---
Site
http://www.olympik.cz/en/olympik/
---