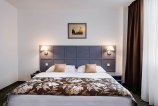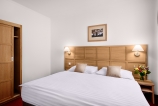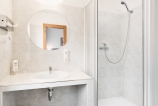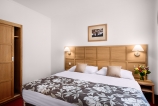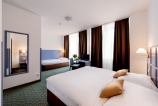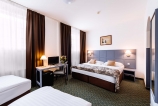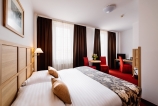 ---
Description
Central hotel is located in the old part of Prague, near the Prasna Brana, close to the Old Town Square and Charles Bridge. At five-minute walk from the hotel you can find cinemas, nightclubs, entertainment venues. Directly opposite of the hotel is located famous night club Buddha Bar. Stunning views of the historic district of Prague you can enjoy from top floors of the deluxe rooms with a balcony or terrace. The lobby bar is open daily from 11:00 to 23:00. Free wireless internet access is available in public areas of hotel.
---
---
Location
The hotel is conveniently located in the center of Prague, a few steps from Old Town Square. Theaters, museums, shops and boutiques, cafes and nightclubs are situated close to hotel.
---
Cuisine
Buffet breakfast is served daily from 7 am to 10 am.
---
Rooms Fund
The hotel has 51 standard deluxe rooms with a bathroom / shower, toilet, sink, hair dryer, satellite television, Internet and telephone
---
Infrastructure
Hotel has a cafe-bar, WiFi, luggage storage, safety deposit box.
---
Site
https://central-prague.com/en-gb
---