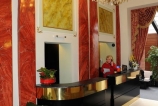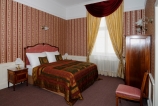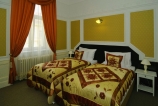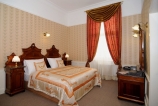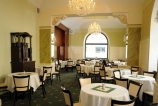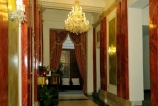 ---
Description
The historical building and interior of the EA Hotel Praga 1885**** will immerse you in the atmosphere of Prague at the end of the 19th century. The hotel is located on Plzeňská street in the Smíchov district of Prague 5, which spreads out along the left bank of the River Vltava. Plzeňská street starts at the Anděl crossroads, which is the location of the well-known shopping centre, housing several restaurants and cafés. The area is also well served by all types of public transport (train, tram, metro, bus). All rooms are furnished with antiques and decorated in the old style. Each room has a satellite TV, minibar and a private bathroom.
---
---
Location
The hotel is conveniently located in the heart of the commercial district of Prague 5 near the metro station «Andel».
---
---
Rooms Fund
Hotel has 42 luxurious, elegantly decorated rooms in the XIX century style (11x double room (18 - 20 m2), 22x double room with extra bed (20 m2), 3x double room with 2 extra beds (30 m2), 3x family room for 4 people (standard double bed + folding sofa for 2 people) (27 m2), 3x suite for 4 persons (37 m2). Each room is equipped with a bathroom with bath or shower, hairdryer, satellite TV, telephone, internet, mini-bar, safe. All rooms are non-smoking.
---
Infrastructure
At Your service there is a luggage storage, ironing, safe.
---
Site
http://www.hotel-praga1885.cz/en/
---