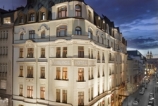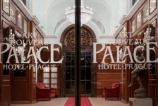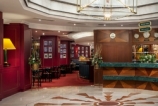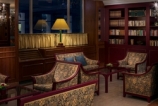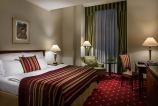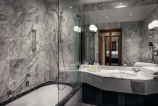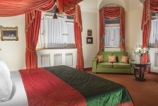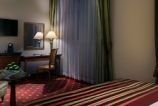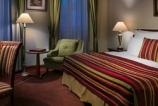 ---
Description
Luxuryous hotel renovated in Viennese style. Interiors combine the design of the XIX century and the advantages of a modern hotel. For Your convinience there are a cafe-restaurant, club restaurant, piano bar, casino, conference center, fitness center (with free access for customers), sauna (entrance fee is included in the room rate), car rental, underground garage, laundry, currency exchange and babysitting. Smoking in all areas is forbidden! ATTENTION! The hotel takes a deposit on arrival.
---
---
Location
Located in the center of Prague, a 3 minute walk from Wenceslas Square.
---
Cuisine
Buffet breakfast. Gourmet Club restaurant offers You delicious Czech and international cuisine. The atmosphere of the restaurant reminds an English club early XX century.
---
Rooms Fund
124 rooms of 7 different categories including Deluxe (28 m2), Deluxe Plus (31 m2), Palace Suite (127 m2), Opera Junior Suite (46 m2), Duet Opera Suite (93 m2), Trio Opera Suite (132 m2 ), Art Nouveau Suite (54 m2), Junior Suite (37 m2). Each room offers a spacious bathroom, hairdryer, bathrobe, cosmetic mirror and cosmetic accessories, tea and coffee, refrigerator, mini bar, air conditioning, 2 direct-dial telephone, Internet, satellite TV.
---
Site
https://www.palacehotel.cz/en/
---