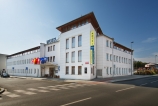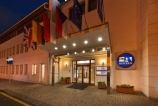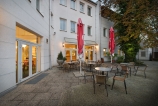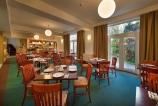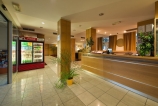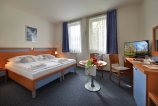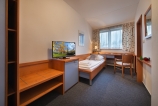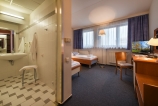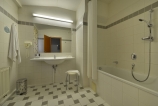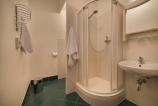 ---
Description
EA Hotel Populus*** is situated in a quiet part of Prague called Žižkov, which is easily accessible from the city centre. Location provides guests with peace and tranquility. Guests can make use of the hotel spacious garden, located between two buildings of Hotel, for their relaxation.
---
Address
U stara cihelny 2182/11, Praha 3
---
Location
Located near the city center in a peaceful area of Žižkov, Prague 3. The bus stop is located 20 meters from the building.
---
---
Rooms Fund
77 modern rooms with total capacity of 220 beds (1x single room (20 m2), 34 double rooms (22 m2), 25 double rooms with extra bed (24 m2), 12 double rooms with 2 - 4 extra beds (32 - 34 m2), 4 triple Room with 1 - 3 extra beds (28 - 34 m2), 1x suite (38 m2). All the rooms are equipped with TV, direct –dial telephone, safe, hair dryer. Some rooms are air-conditioned. The rooms have bathroom with bathtub or with shower.
---
Infrastructure
Hotel disposes with restaurant, lobby bar, conference rooms, parking
---
How to get there
До отеля Вы можете доехать на автобусе номер 133 со станции метро линии A Starom?stsk? либо со станции метро линии C N?dra?? Florenc, дальше так же автобусом номер 234 со станции метро линии A ?elivsk?ho.Остановка на которой Вам потребуется выйти называется Male?ick? она расположена прямо у отеля. Отель расположен примерно в 15 минутах езды от центра.
---
Site
https://www.hotelpopulus.cz/en/
---