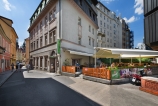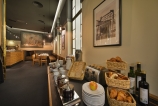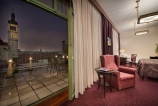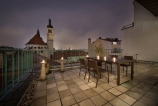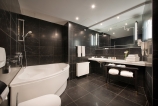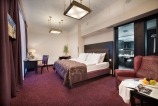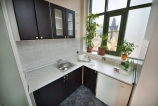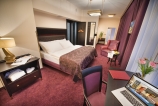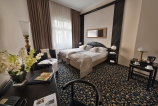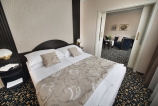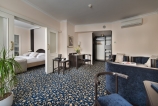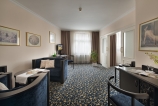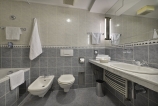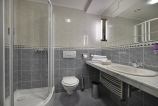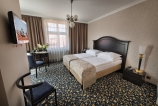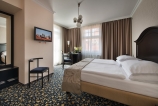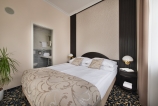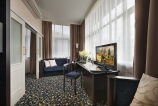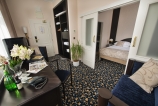 ---
Description
Art Deco Hotel in the Heart of Old Prague EA Hotel Royal Esprit**** is located right in the historical, commercial and social center of Prague. Situated in an alley, the place is offering nice and quiet accommodation with an outstanding transport accessibility and parking option in a garage only a few steps away.
---
---
Location
The hotel is in close proximity to the historic and business center of Prague. Most of the attractions are in a 15 minute walk, metro station Namesti Republiky in a 5 minute walk away.
---
Cuisine
Buffet breakfast. The Snemovna v Jakubsky ( Parliament in Jakubska Street) restaurant is part of the EA Culinary chain, operating quality restaurants offering Czech and International cuisine.
---
Rooms Fund
The hotel is offering accommodation in 31 rooms and suites. All of them are decorated in Art Deco style including authentic furniture. 18x double rooms (20 – 30 m2), 1x Double room with Prague Old Town View Terrace (20 m2), 6x three-beded room (37 m2), 2x Royal Esprit Business Class rooms (26 m2), 1x Royal Esprit Business Class room with Prague Old Town View Terrace (23 m2 + 30 m2 terrace), 1x Executive Junior Suite with a terrace overlooking of Prague Castle (45 m2 + 30 m2 terrace), 1x Junior suite (25 m2), 1x Family room (37 m2).Equipped with mini-bars, satellite TV, direct dial telephone, fax socket and the Internet. The bathrooms are spacious and bright. The rooms have tea or coffee machine.
---
Infrastructure
Hotel has restaurant, currency exchange, laundry and dry cleaning, sale of alcoholic and non-alcoholic drinks, personal care, postcards, stamps, souvenirs, tickets, reception services, a safe, luggage storage, ironing parking lot near the hotel, organization of business events in the conference room reservation, car rental
---
Site
https://www.hotelroyalesprit.cz/en/
---