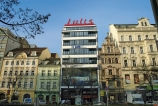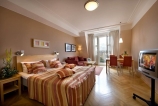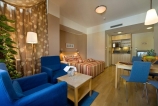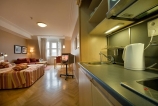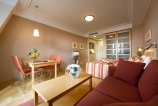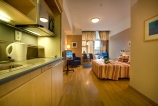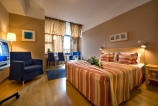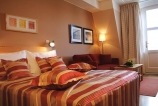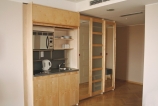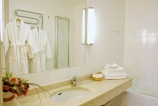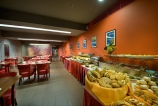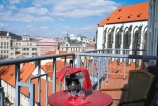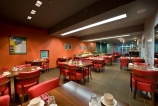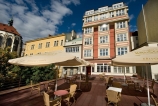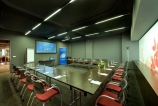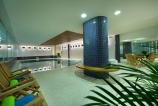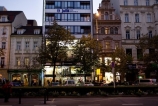 ---
Description
The hotel of EuroAgentur Hotels & Travel chain was decorated in the Art Nouveau style. Hotel is situated in a renovated building that was built in 1926 by Czech architect Pavel Janak. With many shops and administrative buildings the location of the hotel is called the "Golden intersection". Each room offers views of either the Wenceslas square or the quiet Franciscan Gardens. All rooms have a kitchenette with basic equipment including a microwave and refrigerator. For extra charge You can visit the indoor heated swimming pool, a wellness center with sauna and a modern fitness center. Wired internet is available in the hotel rooms for free. Wi-Fi is available throughout the hotel. Smoking is prohibited in all hotel area!
---
Address
Vaclavske nam. 22/728, Praha 1
---
Location
The hotel is located in the center of Prague on Wenceslas Square, 7 minutes' walk from the National Museum.
---
Cuisine
Buffet breakfast is being served in the main restaurant from 7 am to 11 am.
---
Rooms Fund
The comfortable apartments are furnished in a modern style. Each room has a cable speed Internet connection, satellite TV, telephone, hair dryer and a dining table, stove, electric and microwave oven, refrigerator, dishwasher. Room types: 2x single rooms (20 m2), 45x double studio standard (25 m2), 10x double studio with extra bed (35-38 m2), 1x triple studio with extra bed (32 m2), 4 room categories Executive (28 - 35 m2), 1x junior suite with garden view (33 m2), 4x Double room with view of Wenceslas Square (25 m2), 1x Executive Double Room with 1 extra bed (35 sq. m.), 3x Double studio with garden view (25 sq. m.).
---
Infrastructure
Hotel offers a sauna, fitness center, solarium, massage, indoor swimming pool, car rental.
---
Site
https://www.hoteljulis.cz/en/
---